" You're called what, The Tricycle Turds? I don't think we can book a band with a name like that." Thus 'The Fruit Eating Bears' were born, and after all it's no use having a band if you can't play anywhere, is it? And even when we do get a gig our name will be shortened to TTs.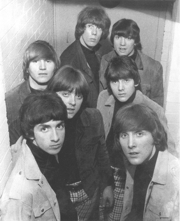 That is how it transpired that myself, Neville Crozier, (guitar/voc), Garry Croudace, (bass/ b.voc) Kenny Mundye, (drums) and Richard Atkinson (lead /voc) changed our band name to The Fruit Eating Bears. We settled on this name as I'd remembered that Kenny had been one of the original two drummers in the 60's Fruit Eating Bears (see picture on the left) when they backed 'The Merseys', who had had a big hit with 'Sorrow', and the name still sounded daft; but it worked and the gigs came in just on the strength of the name. With a name like that who needs to hear a tape! Its funny how things turn isn't it…….. and we come from Purley too.. it's near Croydon. (Kenny had also been with me as the last drummer in "Slowload" along with Carl Nielsen
Also available on to Stream or Download on all the best Platforms.
We continued gigging at all the London venues and a few more in the sticks, until Richard decided that this new punk wave thing isn't quite him and takes off with Kenny, leaving myself and Garry with a string of gigs and no singer or drummer!
But without that twist of fate the classic Bears line up would never have been born.
Enter Chris Penhale on drums (quickly renamed 'Chris Crash' due to his manic style), leaving us needing just a vocalist, and no time to find one; so I take on the job and in doing so complete the infamous line up.
We played our first gig the 4th.June 1977 at 'The George Robey' pub in London's Finsbury Park. It seemed to work well because after one and a half hours of frantic punk music the gig came to a end with nearly every beer glass in the place smashed on the floor, and our P.A. system looking as drunk as the audience
Chris picks up the story……..
Well to tell you the truth, when Garry invited me along for a try out with The Bears I thought we were going to be playing some good old R'n'B numbers. Little did I know that this would be the start of something that was going to be a lot more fun, a lot faster, and sometimes lots more frightening.
Many of our gigs seemed to be memorable for the lunacy happening around us than for anything else. Our very first one at The George Robey pub set the scene. About two songs into our frantic set a chap who obviously had no musical taste whatsoever came in from the other bar and proceeded to push our P.A. speakers over. Well I was ready for home, but undaunted Nev put the P.A. back together again and the band played on. At half time we received lots of encouragement from this bloke who swore blind he was Johnny Rotten's brother, and "him and his mates will tell him how great we were". Anyway when we resume it was they who showed what a good time they were having by kicking a table full of empty glasses to the floor and dancing on the resulting shrapnel.
So this was punk; "Well let's stick with it lads, it can only get better from here, can't it?" (Garry the eternal optimist).
This sets the scene for the next twelve hectic months. Punk is now at its height and we make sure we get our fair share of the gigs, playing at first, support to all the main bands including The Clash, The Damned, The Boomtown Rats, and The Adverts. All the main London haunts, such as The Vortex, 100 Club, plus Sundown, Red Cow, and Hope and Anchor etc. There were also out of town venues including the infamous Chelmsford City Football ground Punk Festival named City Rock '77 on Sat
17th September where we make it onto ITV's News at Ten. Compare John Peel, who was taking pictures of the band as we played and also my right hand which was dripping blood because I was playing so fast, said later in the press " I thought The Fruit Eating Bears to be thoroughly jolly". Strange that, my memory recalls a large bottle whistling past my head as we walked on stage, followed by other assorted missiles; this was meant for the previous act…….
The result of this 'Punk Effect' was that numerous provincial gigs got cancelled as advanced publicity put the wind up promoters. In fact on one occasion 'Scamps' in Croydon prefers to pay us not to play in case violence erupts! Mind you we had just played the first of what was supposed to be four consecutive Tuesday night gigs, which may have had something to do with it. I mean Garry certainly had a way with words when it he came to introducing numbers like—"Our drummer won't be singing on this one he has just had his piles squeeze"
Chris recalls another strange event .....
One of our more fun gigs was as support on a two- nighter with our mates "The Damned" at The Sundown club in London. When we arrived and walked into the dressing room, there standing up in the corner was a black coffin that had been used as a stage prop in some previous production. If you remember "The Damned" you will know that Dave the singer was given to dressing and looking very much like Dracula; so when he arrived and he saw this his eyes lit up like Christmas had come early, and he proceeded to spend the rest of the time before the gig snogging with his girlfriend in the said coffin. Come the end of the night we were in the side alley loading our gear into our hire van, when the sinister figure of Dave with a coffin on his back appears and walks down the alley and off down Tottenham Court Road. Many minutes later he returns with his prized coffin and throws it into the skip parked next to our van. 'What's up Dave' said Garry. 'Oh the bloody cab driver would not take the coffin in his cab'. (I don't know, cab drivers these days have no sense of customer service) 'Don't worry' said the ever-helpful Garry, 'we'll put it in our van and bring it back tomorrow when your van will be here and your roadies can take it home for you'. 'Cor, thanks lads'. So it came to pass that we drove back to Purley with Dave's coffin on top of our gear and after dropping off the other guys I parked the van outside my parents house and went in for a well earned kip, only to be awakened early in the morning by my Dad saying 'Chris, Chris did you know there's a coffin in the back of your van'? It took some explaining I can tell you.
By now all this activity was getting us noticed, so it was not long before we signed an independent record production deal with Jackson Music. The main reason for this was they had access to the services of top new wave producer Vic Maile whom I had previously worked with for many years on the Pye Mobile recording unit. Also, they owned Jackson Studios in Rickmansworth where Vic was getting some great sounds and hits with records like Tom Robinson's 2-4-6-8- motorway.
It was not long before we got the Vic treatment, first a day of demos, then many days of recording and over dubbing including his 'clicky bits' as he called them. We worked well together, and on occasions he could be heard to say over the studio intercom after what we considered to be an amazing track 'Is that a take you stupid boys or are you still tuning up'?
From the start we had always written most of the original numbers ourselves, with either Garry, Chris or myself coming up with the words, then Garry or myself would write the music; and so it was with our first single 'Chevy Heavy' / 'Fifties Cowboy', which was released on Lightening Records 24th Feb.1978 eventually reached No5 on the Sounds new wave chart. Originally this was supposed to be released by Raw Records on green vinyl but was pulled at the last moment, not before they put us in a photo shoot laying flat out completely covered in fruit!---- and I mean covered, except our heads. We never saw the photos but are told they are great. Now, does anyone out there know where they are?
This continuing interest in us encouraged Jacksons and Vic to get more of our set on tape, eventually fourteen tracks all of which appear on this CD most for the first time anywhere and every one of them a classic Vic Maile production for which he is now a legend in his own lunchtime!
Among the new numbers we recorded is 'Door in my Face'; Chris came up with the title and I put a tune to it. We thought nothing more of it until I received a phone call from Vic saying "You've got a gig at the Albert Hall in London. Oh, and it's on prime time BBC TV, do you want to do it?" Well I thought about it for two seconds and accepted! Then he added there's a slight catch… Unbeknown to us Jacksons, as our publishers, had entered "Door In My Face" in The Eurovision Song Contest U.K. heats "Song For Europe" just for fun, as punk was now being accepted in the mainstream of music, and low and behold, it came in the winning last twelve. Anyway it was agreed that we should still go for it, and wheels were set in motion. First we had to re-record the backing track as only the vocals would be live, and we were not allowed to use the original. That meant that a musicians union official had to preside over the re-recording to make sure we didn't cheat (Ho! Ho!)
Garry Takes Up The Story
....
The re-recording day arrived at Jackson's studio, and a very nice Mr.M.U. turned up to watch over the proceedings. But oh, there was a problem with the mixing desk, so it was suggested that perhaps Mr.M.U. would like to go down the local pub with the Jackson brothers (John and Malcolm) while it was fixed.
Several large scotches later they returned. We launched into a couple of passable renditions of "Door In My Face" and trooped into the control room to listen to a playback. At that point Vic ran the tape back a bit further than the two takes we'd just done. Back, in fact, to one we had recorded and dubbed earlier while they were all down the pub, and yes, we all liked this take, so it got duly mixed down and the tape was handed to Mr.M.U.— Everybody happy!
We also got to choose our own wardrobe for the show. Well that took no time at all as we all plumped for our usual gig clothes, jeans, T-shirts and trainers. And on the day (31st March '78) we again rose to the occasion by refusing to wear T.V. makeup or change into flash clothes as requested. They didn't seem very amused either as my microphone collapsed in a heap at rehearsals, due to my jumping around too much! This was the day before the show and we were all quite taken by how interested everybody seemed in us, in fact, as they rehearsed the scoring system "Door In My Face" was in the lead right until the last moment when we all suddenly ended up with the same score.
We were equally taken by how we were virtually ignored the minute we came joint bottom in the contest, causing Terry Wogan, the compere, who had previously described us as "gentle creatures, despite their fierce appearance" to breath a huge sigh of relief.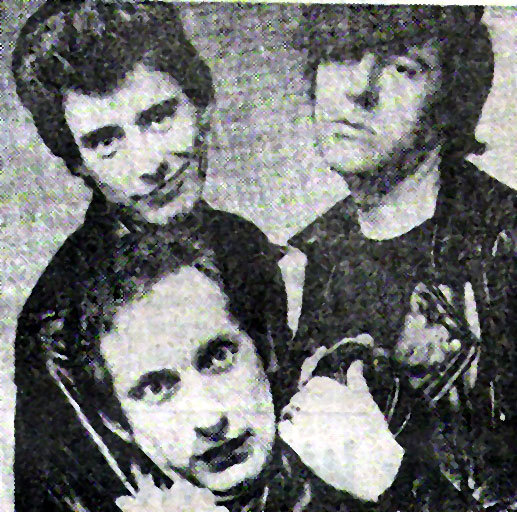 Chris Puts It Another Way .....
Of course our biggest gig came when "Door In My Face" was selected for the UK finals of the Eurovision Song Contest. Talk about square pegs in round holes. I remember walking into the dressing room of the Albert Hall dressed in our band gear (jeans and T-shirts) to be met by some bloke doing some ironing and saying "if you need your stage clothes ironing boys, leave them over there for me." The look of disdain we got when someone said " it's alright mate, we're wearing it."
Neville continues......
But putting aside the BBC, the posers and the "put together for the night bands", it was a terrific buzz appearing live on TV at the Albert Hall and I think for a while we thought that we might actually win and break the mould of the usual type of Euro song mush selected by the great British public. But it wasn't to be, and from there we carried on regardless doing gigs, good and bad, plus more recording with our task master and mentor Vic Maile, without whom we would not have got the record releases that we did, and perhaps this album could act, in part, as a thanks to him for believing in us, although he would probably say "what a load of rubbish".
We didn't mind though, we'd made the point and remain the only true punk band ever to be involved with the contest — I've still got the video to prove it! Vic couldn't believe we hadn't won. Being the only "now" artists there, he thought we'd walk it, but it was Eurovision where nothing made sense. He also couldn't understand why we weren't pissed off, but it really was just a laugh to us, and as such we'd had a great time, so afterwards we took him down to a pub near Sloane Square to drown his sorrows. Which was pretty difficult as he only drank coke!
Before the contest Jacksons turned down an album deal for us from C.B.S., commenting that the royalties would "only buy a packet of fags in years to come" and "who knows, you might win" (yeah, right). So they decided on a singles deal with D.J.M. Records with "Door In My Face" released April'78, "Going Thru The Motions" on the B-side. Both are on this C.D. for the first time since that original release.
Airplay is quite good, sales are crap, the charts elude us, but we still have the other tracks in the can. Among them "Green Love", a number written by Joe Strummer of "The Clash", which we all fancy as the next single. I can definitely confirm that Joe wrote this when he was with the 101ers. Firstly, because Vic had been working with them and so gave us the track to record, and secondly because when we played the 100 Club in Oxford Street, London on September 22nd we included "Green Love" in the set, and in the interval between bands, Joe, who had been watching us, approached me and demanded his royalties for the song! After a bit of bartering the amount agreed was a round of drinks for him and his mates — — at which point I suddenly found I was the only band member or roadie in sight…strange that. But a round it was, which completely cleaned me out, and also left me without a drink, but in the end Joe saw we were genuine and bought me a drink. The others were still lying low you see, and we talked till the next band came on.
We gigged steadily using Rob Hallett as our manager, and after a long trial period we signed a contract with him on 12th September '77 and promptly bought it back for £50 on 28th October '77! Just after we found out about the song for Europe contest. Not one of our better moves, however, as he went on to co-manage Duran-Duran.
Strange things continued to happen to us, like we set out on a Northern tour only to find out, via a chance phone call, that none of the venues knew about it. Punk still seemed to be unnerving people. It was things like that that prompted Garry to chuck it in. He recorded "Indian Giver" with us (included) and played his last gig with us at The Alhambra in Brighton on Saturday 17th June '78, then left. The classic line up had lasted just 12 months. Recording-wise though, things started to happen. I had written a number calle"1.30, 2.30, 3.35" about my Mrs's old man, Harry Mills who loved to have a flutter on the gee-gees at the bookies. Vic really liked it and we promptly recorded it using Mick Noble on bass and then, as usual, forgot all about it. Until, that is, Vic played it to "The Pirates" with whom he had already made two very successful albums. They went ahead and recorded it with him, finally including it on their third 1979 album "Happy Birthday Rock and Roll". I played one of the overdubbed guitar tracks, but I don't think Vic ever told them about that! Most of the press reviews highlighted the track as well.
Soon after, Vic was asked to produce "Hazel O'Connor", who was just about to make the film ' Breaking Glass '. He asked The Bears to back her on record, so we got Russell Murphy in on Vox continental organ and used Tony Walker on bass when Mick Noble could not make it for the sessions. We then rehearsed with Hazel in London at "The Tunnel" in Waterloo and "The Ritz" in Putney.
The result between Jan and April 79 was five tracks with us and Hazel, two of which were released as her first 1979 Albion single 'Eee-I-Adio'( http://youtu.be/hRkQ8rVqZTs )
backed with 'Time is Free' (http://youtu.be/FxPE6LAY3G4)
The five tracks became part of her first Albion album, with a band called 'The Unknowns' backing her for the other tracks, though I dubbed guitar on these as well as they did not have a guitarist. We had a fun time with Hazel, she even asked us if we would like to be her live backing band, but at the time we were busy doing our own thing, so had to decline.
This was all looking good for us, then once again our Bear's jinx strikes again; because of legal problems between record companies, the finished album cannot be released so the whole lot is re-recorded (including the hit D-Days, to hear our version, see
http://youtu.be/juc-72pqLL8 ) without us or Vic and was eventually released as the "Sons and Lovers" album.
I have one pressed copy of our album with Hazel, and the tapes are around somewhere; maybe one day they will get released. Vic Maile fans would love it and Bears fans could hear how tight we had become.------anyone out there got the tapes? 2017 Cherry Red Records have now released 'Eee-I-Adio' on the re-released "Cover Plus Expanded Version. A track we played on
and now March 2018 Cherry Red Records have also released Time Is Free (Original '79 Version) and D-Days (Alternate '81 New Version) on the re-released "Sons and Lovers album Expanded Edition" again two of the tracks we played on. Still sound great!
But back to that forgotten track "1.30, 2.30,3.35" which we'd done. It was in March 1980 that Vic, who was producing "Lew Lewis" for Stiff records, now gets the notion to take my vocal off one of the backing tracks and replace it with Lew's. The result was excellent and Stiff immediately released it as Stiff 68 in April 1980 just in time for Epsom Derby Day. Paul Burnett picked up on it and made it his record of the week on his daily Radio 1 show. Airplay was massive, reviews were rave, a chart position looks certain____ but hang on this had The Bears on it; so true to form, disaster! Lew decided to have an argument with Stiff and walked out on them. Stiff promptly withdraw support for the record and that as they say was that. However, I did see a chart with it at No 5 in Portugal, which is strange as it was never officially released there!
Stiff later said they would have released our version had they known it existed_ shit, just our luck. As it was, our version remained in the vaults but is heard here for the first time along with ' I don't wanna be the one' which may have been the B-side. Both these tracks and 'Indian Giver' were Vic trying to get us in a more commercial direction, which we were happy to go along with.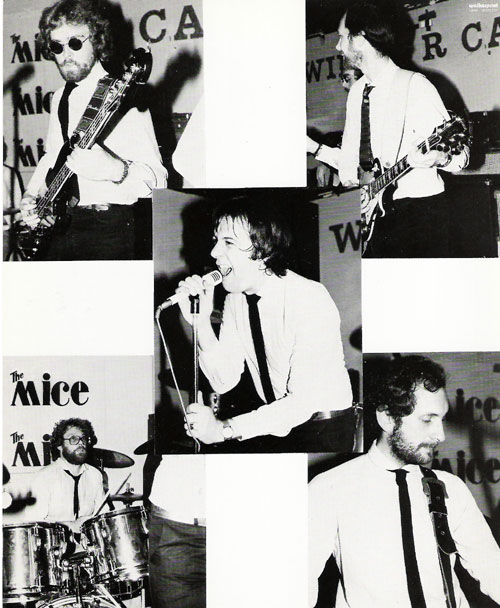 The Lew Lewis 1.30, 2.30, 3.35 affair and no release on 'Indian Giver' really brings the story to a close. We all drifted into other things. Firstly, I joined Garry and Kenny again to form 'The Mice' along with Barry Stanford and Geoff Peel releasing the old Bears number 'A song for Europe' in 1980. see
Then in 1983 I formed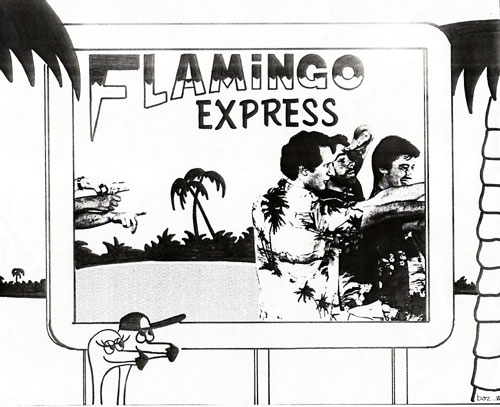 'Flamingo Express' with Chris Crash and Barry Stanford releasing 'Honeymoon in Spain' (See www.itunes.com/flamingoexpress
Also available on to Stream or Download on all the best Platforms. But you can't keep a good Bear down, and so it wasn't long before I got back together with Kenny and Garry to reform "The Fruit Eating Bears" we did many great gigs, right up untill 1989, by which time Barry Stanford had taken over on bass, as Garry had left to live in America.
There's a definite animal connection here somewhere, but the C.D "Gentle greatures despite their fierce appearance" belongs to The Bears. It contains all the Vic Maile produced studio recordings (tracks 1_15); two of the original studio demos that Vic used to select tracks from (16_17). Two rehearsal demos (18_19) which give you an idea of where we were going as very few usable recordings exist of some of our more bizarre titles, (which along with our Crazy Countins were usually mentioned in reviews) such as G.B.L. (Grievous Bodily Lust), Pinstripe Professional, Sell It with Sex, Bit of Vice, etc. Most are just poor quality guitar vocal demos.
Along with these (tracks 20_32) is the one and only live recording of the band at 'The Highcliff', Cliftonville, Margate on Friday 11th Nov.1977 complete with energy and attitude, which makes up for the lousy quality. You should still be able to get a copy from "Amazon" if not they do come up on E-bay, along with the singles sometimes. Alternatively you can now download two albums, and an E.P from
www.itunes.com/fruiteatingbears
or just single tracks it you like. Also available on to Stream or Download on all the best Platforms.
The only other live recording we know of is from Chelmsford Festival but there is virtually no guitar on the track
https://youtu.be/bCHQGLNv1Hs so Margate has to be cherished as the one and only, and this had to be edited down from 45mins because of the tape drop outs.
We would all like to dedicate the album to Vic Maile who died on 11th July 1989, mainly because he always hated records being dedicated to people. (Ho, Ho!)
But we like to keep up our punk traditions_ that's Vic by the way with 'P' for producer on his T-shirt in the centre pages spread. We always had a great laugh together and he is still greatly missed by all who knew him.
Thanks must go to John and Malcolm Jackson for giving permission to use tracks 1_19, Paul Slattery for a lot of the photos, Lesley Maile, Brian Harding for bootlegging the Margate gig____ we'll let him off though, he did give us the tape! All the roadies among them Dick, Geoff, Ape, Fred, and Ian, all at Overground for making it possible, and of course all our fans where ever you may be without whom we would still probably be The Tricycle Turds.
Neville, Chris, Garry. "The Fruit Eating Bears." 1998. London England. Last updated August 2020
"FRUIT EATING BEARS" Albums and single available on "Giant Bear Music"
Stream or Download from all the usual platforms including - iTunes, Amazon, e-music, Google Play, Apple Music, Spotify etc:
"FRUIT EATING BEARS" Guitarist singer "NEVILLE CROZIER" Has a new album out August 2020, "THE 2020 REMASTERS" which as the title says is 23 remastered tracks taken from all of his E.P's and singles, which were "SEAL OF APPROVAL" "ACOUSTICROZIER" "RETROBILLY" "ROUTE 65" "ALOHA" and "RHYTHM IN THE SKIES" and 3 singles. Already out are three solo Albums "THRU THE GEARS" "WHOLE LOTTA STREAMING GOING ON" and "INVISIBLE MAN" all on "GIANT BEAR MUSIC"
Stream or Download from all the usual platforms including - iTunes, Apple Music, Amazon, You Tube, e-music, Google Play, HMV, Spotify etc:
| | | | |
| --- | --- | --- | --- |
| | | | |
| | | | |
| | | | |
| | | | | | |
| --- | --- | --- | --- | --- | --- |
| | | | | | |
| | | | | | |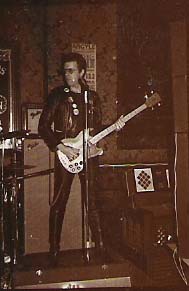 GARRY SADLY PASSED AWAY IN AMERICA IN FEBRUARY 2007. HE WILL BE GREATLY MISSED, EVEN THOUGH WE RARELY SAW EACH OTHER, AND ONLY EXCHANGED A FEW E-MAILS THESE DAYS. HE WAS, AFTER ALL, THE ONE WHO SAW THE EARLY RAMONES, AND KNEW THIS WAS THE DIRECTION FOR THE THEN PUB ROCKING BEARS TO TAKE. HE WAS OUR ORIGINAL DRIVING FORCE, AND THE PUNK FRUIT EATING BEARS STORY WOULD NEVER HAVE BEEN THE SAME WITHOUT HIM. WE WILL ALWAYS MISS HIM.
...................................................................................................................
Kenny Mundye (website, Stixdrumming) our original drummer, (before Chris Crash who is alive and well in Devon), now lives in Edenbridge in Kent ,England, runs percussion workshops and is resident drum teacher at Hextable Performing Arts College and Northfleet Technical College. He has written a poem of his 1962 memories.

The day broke, I awoke, the dawn chorus, the aroma of the Kardoma, memories of Whitechapel, the 55 bus.
A bacon buttie, game of footie, shoes with side laces, dashing home for People and Places,The Beatles' first tele appearance (much to the annoyance of my parents).
Leather jackets, strange harmonies... a cellar full of memories.
What happened to Come Dancing... Oh please love me do...
Me dad lit his pipe, Three Nuns was his delight... I can hear him say Pete Best was OK... me dad knew them all.
The Undertakers, King Size Taylor, The Remo Four... he once won a tenner on Spot the Ball, went down the pub, a brown mixed or two... it was a good year was '62.

- - - - - - - - - - - - - - - - - - - - - - - - - - - - - - - - - - - - - - - - - - - - - - - - - - - - - - - - - - - - - - - - - - - - - - - - - - - - -
2014 Guitarist "Neville Crozier"spent many years with the now retired three piece rock 'n' rollabilly band "Midnight Howlers"
releasing ten albums on "Giant Bear Music" Stream or Download from all the usual platforms including -
iTunes, Amazon, e-music, Google Play, HMV, Spotify etc:
-------------------------------------------------------------------------------------------------------------------------------------------